| | |
| --- | --- |
| 1997-Present    | Freelance — Website and Multimedia production/programming |
| 2009-Present | ClickFire Media — Senior Interactive Producer |
| 2008-09 | Nitro Group USA — Consulting Executive Digital Producer |
| 2004-08 | Isocurve — V.P. of Production |
| 2002-03 | Amplify — Creative Director |
| 1997-01 | Visionary Media — V.P. of Production |
| 1995-98 | Penn & Teller — Audio Designer/Technician |
| 1994-97 | United Nations — Radio Engineer |
| 1993 | Sarah Lawrence College — B.A. |
| | |
Below is a partial list of clients with whom I've worked. I've also had clients over the years with names and logos not all as recognizable as these. Regardless of size and scope, I bring my creativity and technical knowledge to every project and treat all with respect, thoughtfulness and detail.

Role:
Producer • Project Manager
NetCast is a feature in LG products which allows users to view internet services such as NetFlix, YouTube and Pandora directly on their TV. This flash experience, showcased on lge.com, introduces users to each of NetCast's online entertainment brands. As Producer at ClickFire Media and lead liaison I worked closely with Publicis Modem, LG's digital agency, on all aspects of the project; starting with scoping, bidding and creating functional specifications then into wireframes and storyboards. After coordinating between ClickFire and Publicis' design teams to arrive at final design the project went into development. During development I worked with numerous teams including live action, post production, flash animation and development, talent representatives and audio production.

Role:
Producer • Project Manager
House of Halloweenies is an micro site which showcases 3D animated hot dogs dressed in Halloween costumes from Party City. It's both a game in which the users explores an interactive haunted house to find "tricks" and "treats" as well as a sales device which drives visitors to featured costumes on the Party City website. It also includes Facebook integration via Facebook connect. As Producer and Project Manager on this project I coordinated all aspects of it's creation and served as liaison between ClickFire Media and the client, The Zimmerman Agency. Durring production I oversaw teams of GCI and 3D artists, animators, designers and developers.

Role:
Vice President of Production
From 1997 to 2001 I served as Vice President of Production at Visionary Media, a pioneering online animation studio that bridged the gap between online entertainment and television broadcast. Our team worked with writers and artists from Marvel Comics, D.C. Comics and a former executive from Hanna Barbara, on our premier property: WhirlGirl, an animated, weekly series that was shown both online and on the Showtime network.
During its 110-episode run, I managed all aspects of production and personnel including teams of full-time and contract technical, creative and business staff. I produced and mastered Whirlgirl's music, sound effects and voice over recordings. I was responsible for pre-load oversight, database administration, and interface and navigation design.
Over the three years I produced WhirlGirl, the property enjoyed a merchandising relationship with Viacom and a multi-season partnership with Showtime. I helped to coordinate Showtime's $100-million promotional campaign including CD-ROMs, action figures and national billboard campaign.
Read more about Visionary Media in The New York Times.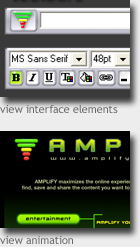 Role:
Creative Director
Now known as Clipmarks, Amplify created a browser toolbar that enables users to create their own web pages made of snippets taken from any virtually any element of a source web page including video, flash, images and dynamic text. In addition to the toolbar, Clipmarks created a social networking site which allows users to share their pages. While at Amplify, I served as Creative Director and was responsible for the overall creative voice and look-and-feel of its tools and website. In addition, I created and implemented their Search Engine Optimization strategy and numerous interactive flash-based user tutorials.

Role:
Animator • Programmer
FanLib is an online entertainment company which facilitates collaboratively created fan fiction. Through their syndicated model, FanLib creates sites for a large variety of properties including Showtime's "The L-word", the Harry Potter franchise, and my favorite, "Star Trek". Using the client's original Photoshop layouts, I created all animation and Flash effects, as well as the embedded video player functionality.
Description:
This flash site was designed by the Isocurve team to showcase the jewelry of Gabriela de la Vega. Her work is carried by prestigious specialty shops as well as high end department stores such as Barneys. As VP of Production I made sure that the strong creative site design was retained while still producing a functional web site. About a year after the original flash site was made, we added a simple HTML based online store on which I worked in the same capacities.
Responsibilities:
Producer • Co-Animator • Assistant Programmer
Description:
This was one of my first projects at Isocurve. Working from static Photoshop layouts, I brought them to life through programming, animation and sound. I've added creative touches like the "old movie style" homepage, bubble cursor tracer, waving lines which create the transitions between sections and the floating navigation in the "our work" section.
Responsibilities:
Flash Animation, Programming & Sound

Description:
This website showcases Robert Kehlmann's art. He's not only my father but also a prolific, and prominent glass artist. I designed this site to communicate his vast body of work without competing visually with the art. External XML files, allow for easy updates in keeping the website current.
Responsibilities:
Producer • Designer • Flash Animation, Programming & Sound
Description:
This is my personal website: ephx.com. It is a relaxed creative flash website showcasing my arm, hand and index finger repeatedly scanned. Scans were then cut up and Action Script was was used to articulate the arm and hand. The wrist bends, arm twists and finger clicks in response to mouse movement.
Responsibilities:
Producer • Designer • Flash Animation, Programming & Sound
Description:
Daffy's Studio Adventure is one of a series of games I created for Warner Brothers. Once the concept was approved by the client I oversaw the freelance artists with whom I collaborated. With these assets I programmed the game engine and created the sound track using the Warner Brothers sound archives.
Responsibilities:
Producer • Programmer • Sound
Description:
In 2001 I created Pepe's Love Run. This was one of my first games, and one of Looney Tunes first game sites. Working with assets from artists I programmed the game engine and sound.
Responsibilities:
Producer • Programmer • Sound
Description:
This game was one of three I produced for the Looney Tunes Back in Action movie website. Sometimes you can revisit the basics and introduce it to a new audience. This game based on the classic board game Mastermind.
Responsibilities:
Producer • Programmer • Sound
Role:
Producer • Project Manager • Animation
AKC Gallery is the exclusive publisher of limited edition reproductions from the American Kennel Club's extensive art collection. As Vice President of Production at Isocurve, I oversaw the production of the AKC Gallery site from conception to completion, managing early drafts of site design through HTML/CSS production, Search Engine Optimization, e-commerce integration and the creation of post-production promotional collateral. The e-commerce back-end is a custom hybrid of both Interchange and Authorize.net.

Role:
Producer • Project Manager • Animation
The Battleheads site, created at Isocurve, sells wearable masks for sports enthusiasts. As the producer and project manager, I oversaw the entire production process, coordinating early drafts, design and development of assets, HTML/CSS production, e-commerce integration, Search Engine Optimization and the creation of promotional materials.

Description:
Clarity Media Group, a leader in Media Training, works with high profile clients —Sport Stars, Recording Artists, Authors and Corporations. As Vice President of Production at Isocurve I built the website. Working from Photoshop layouts, I produced the site including HTML/CSS, Flash navigation, homepage animation, custom video player and Search Engine Optimization.
Under Clarity's retainer agreement with Isocurve, it was my responsibility to manage their Google AdWords Campaigns, Search Engine Optimization and email campaigns.
Responsibilities:
HTML/CSS • Flash Navigation Programming and Design • Home Page Animation • Custom Video Player Programming • On going maintenance including SEO, AdWords management and reoccurring email blasts.
Description:
First Responders is a financial company founded by Peter Hayden, former NYC Fire Chief and Dennis Smith, former fire fighter and author of Report from Ground Zero. At Isocurve, I oversaw the production of the website and personally created key elements including the home page flash animation and interface elements.
Isocurve has continued as part of the company's marketing and promotional team. I have both participated in strategic meetings, and worked on radio/online ad campaigns, sweepstakes, email campaigns and print promotions.
Responsibilities:
Producer • Jr. Designer • Home Page Animation • On going maintenance including HTML updates, SEO, and reoccurring email blasts.
Description:
While experimenting with creative programming I sometimes stumble upon new project possibilities. This is a simple mouse tracer (move your mouse within the black area) in which the user controls the variables.
It's still a work in progress but it has the potential of allowing users to upload their own images, save their settings and preferences and share their creations with others. I also plan to complete the help section, for which there is a button but nothing else.
The variables may be a bit cryptic, but hopefully they will invite user experimentation. It is possible to create settings that are very processor intensive, causing even fast computers to run slowly. If you experience this, wait for a moment while moving your mouse out of the black area. Have fun.
Responsibilities:
Conception • Design • Flash Programming